What is it?
A spinal cord that is pulled down and stuck or fixed to the spinal canal is called a tethered cord. In a normal individual the spinal cord floats free in the CSF in spinal canal.
What are the causes?
It occurs most often in children who are operated for neural tub defects. A scar usually forms after surgery and the spinal cord gets stuck to the scar. This gradual pull on the spinal cord as the child grows gives rise to symptoms. It can also occur in spina bifida occulta when the spinal cord gets stuck to the bony defect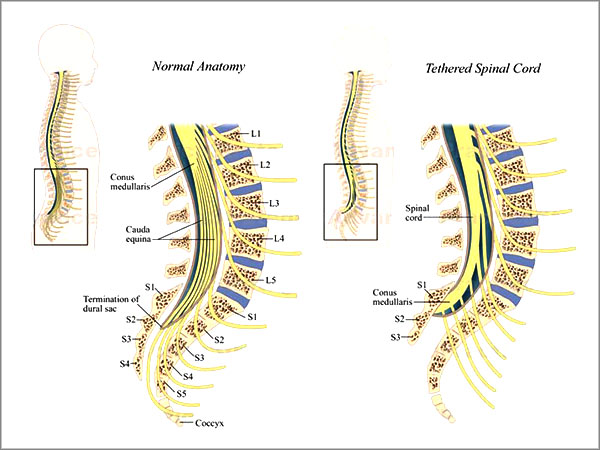 What are the symptoms?
Back pain or shooting pain in the legs
Muscle weakness in the legs
Numbness and tingling in lower limbs
Arching of the feet
Loss of bladder and bowel control
Abnormal curvature of spine – scoliosis
Recurrent bladder infection
Birth marks like tufts of hair, fatty lump or dimple over the back
How does one diagnose?
Proper clinical history and a detailed neurological examination
MRI to see for a low-lying cord and the fixation of the cord to the tissue at the bottom of the spine. Associated conditions can also be diagnosed.
What are the treatment options?
Surgical correction is the only option. It depends on the severity of the symptoms. Intra operative neuromonitoring during the surgery gives better results. The spinal canal is opened and the spinal cord is detached from the scar. It is called detethering of the cord.