What is CCF?
It is an abnormal connection between the carotid artery or its branches and a large vein called cavernous sinus. This sinus is located behind the eye and receives blood from it and the brain.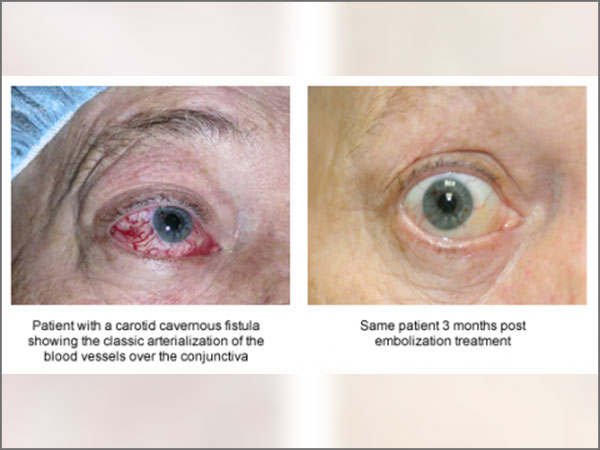 Types of CCF
Spontaneous: due to rupture of the carotid artery aneurysm into the cavernous sinus.
Traumatic following a head injury either blunt or penetrating.
What are the symptoms?
Patients present with classic triad of
Chemosis: red eye
Pulsatile exophthalmos: abnormal protrusion of the eye
Ocular bruit: blood flow sounds
Other symptoms are
proptosis: protrusion of the entire eye
Diplopia: double vision
Visual loss: blindness

How is it diagnosed?

history
clinical examination
CT and MRI
Cerebral angiography

How is it treated?

there is no medical treatment
Endovascular treatment

Deploying detachable balloons
Covered stents
Stent assisted coiling

Sometimes CCF may need to be occluded through a vein
Surgical: opening the skull and occluding the carotid artery proximal and distal to the fistula. This sis followed by cerebral revascularization by joining the vessels of the face and those of t brain.