This problem arises when fatty deposits clog the blood vessels to the brain namely carotid arteries. This increases the risk of stroke. This disease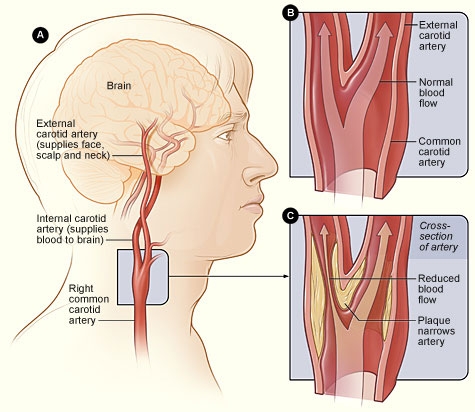 progresses slowly and gradually. It can manifest as a stroke or transient ischemic attack.
What are the symptoms?
sudden numbness or weakness
sudden trouble speaking
sudden trouble seeing
sudden dizziness
sudden severe headache
When to see a doctor?
Doctor should be consulted immediately whenever a person experiences transient ischemic attack.
What are the causes?
The disease is caused by a build up of plaques in carotid arteries. Plaques are clumps of cholesterol, calcium, fibrous tissue and other cellular debris. Carotid artery stenosis can result in stroke due to
reduced blood flow
ruptured plaque with blood clot block
What are the risk factors?
high blood pressure
tobacco abuse
diabetes
high blood fat levels
family history
increasing age
obesity
sleep apnea
lack of physical activity
How to prevent carotid artery stenosis?
stop smoking
maintain a healthy weight
limit cholesterol, fat and salt intake
limit alcohol
exercise regularly
control diabetes and blood pressure
How can this be prevented and treated ?
life style changes to slow the progression of atherosclerosis
medication to control blood pressure and to lower cholesterol
if blockage is severe

carotid endarterectomy
carotid angioplasty and stenting.